How Can We Help
At Petersfield, we highly value our parent and community partnership. Together, we strive to provide the very best education possible for all our pupils.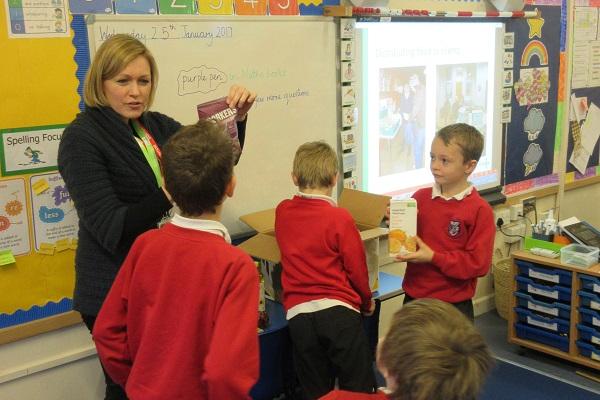 If you are unable to find out the information you require or answer your question from the information below, please do speak to the School Office team – Mrs Helen Sutton and Mrs Vimi Ahuja - in person following the signs to the main entrance at the front of the building, by telephone: 01223 207382 or via email: office@petersfield.cambs.sch.uk) regarding any query about an aspect of school life.
Admissions information, regarding your child starting at our school, can be found here.
After talking to parents, Frequently Asked Questions about most aspects of school life have been answered in our Parent Information Pack. This can be found online here or as a paper copy in the school entrance.
Information on how we keep are children safe – in school, as individuals and online (E-Safety) - can be found under the 'Safeguarding' dropdown menu on our website or by clicking here.
Key policies can be found here. Summary leaflets explaining them can be found on the same webpage or as a paper copy in the school entrance.
Information on the school curriculum, including assessment can be found under the 'Curriculum' dropdown menu or by clicking here.
Term dates are published online and in the school entrance and on the playground notice board. A full list of calendar dates for each academic year is published in September annually and can be found in the entrance and playground or by clicking here.
Our attendance policy and summary leaflet can be found here. The leaflet is also available in the school entrance.
Should your child need medical support – short or long term – please click here to find out more. Our summary leaflet is available online and in the school entrance.
Uniform information is located here.
Information about school meals can be accessed here.
A link to our school milk provider can be found here.
Should you need to make an Online payment, you can log into ParentPay here.
If you are in receipt of certain benefits, your child may be entitled to Free School Meals and the Pupil Premium. If so, it is essential that you claim this financial support for your child and more information can be found here.
Information on Puffins, our Out of School Hours club, can be found here.
Want to find out more about school clubs? Click here.
More information on our fun and excellent fundraising PTA can be found here.
Should you have a query about your child, your child's classteacher(s) is best placed to help.
Please do look at your child's website class page: Ash, Elm, Pine, Rowan and Yew to find updated information about the curriculum, homework and to see the pictures of the class at work.
Classteachers are available on the playground at the end of each day as they dismiss pupils. Please do speak to them once all the pupils have been discharged into the care of their parents/carers.
Alternatively, an appointment can be made by contacting the office.
Not sure who to talk to? Our staff and governors information detail who we are and what we do. A member of the Senior Leadership Team – usually the Headteachers – are available on the playground each morning and evening. Governors attend most of our school events and wear an orange lanyard. Their photos, and those of all our staff, are displayed in the school entrance. The contact address for our chair of Governors is via the clerk – clerk@petersfield.cambs.sch.uk
Miss Smith is our SENDCo (Special Educational Needs and Disabilities Coordinator and Inclusion teacher). She is available on the playground at the end of the school day Monday to Wednesday or can be contacted via the office. Please do look at our SEND webpage to find out more about support at Petersfield and the County 'Local Offer'.
Mrs Gwynn leads our pastoral and behavioural support. Our summary leaflet is available online and in the school entrance.
Should you remain unable to find the information you require or resolve any issues, please do make an appointment to speak to the Headteacher and we look forward to working together to resolve the matter.
If we remain unable to resolve matters, our formal complaints process is available here and on our policy page. Before the formal processes are invoked, every effort will be made to resolve matters informally with the relevant member of staff, Senior Leader, Headteacher or Governing Body. The formal Complaints Procedure will not normally be accessed unless the Headteacher has first been given the opportunity to discuss the matter with the complainant. This complaint should be made in writing using the formal School Complaints Form which is available here as a word document for completion.
Should you be unable to find what you are looking for, please do let us know when you contact school so we can update this information to help others.
Complaints Policy
Latest News
22nd Nov - our 'Stay and Play' session at Peterfield welcomed prospective parents and pupils for September 2017. The application deadline for the first round of EYFS admissions is 15th January 2018.
22nd Nov - Pupils from Petersfield attended an award ceremony and were presented with our Bronze Travel Plan award and a prizes of bike and scooter storage.
21st Nov - Thanks to FOPS for the dancing, sweets and fun had at tonight's school disco.
17th Nov - Children in Need Fundraising with a dress down day.
16th Nov - We were delighted to host one of our regular induction sessions. We highly value the parent and local community support we receive to enrich the learning of our pupils.
16th Nov - In our Anti-Bullying Assembly today, we listened to how to be a good friend, why we are all unique, special and equal and the varieties of bullying. The pupils learnt more about how to deal with cyber bullying and we all agreed that Petersfield is an anti-bullying school.
15th Nov - Hands on science in Rowan Class thanks to Miss Ball! 'Mr Ashford made his hands wet, scooped up the bubbles and Miss Ball then set light to a long, long, long stick before setting Mr Ashford's hands on fire! Twice! When the flames went out, Mr Ashford's hands weren't even singed!'
14th Nov - Year 6 participated in the first of an exciting series of science lessons thanks to Johnson Matthey as organized by one of our wonderful parents.
14th Nov - we continue to invite parents and carers into school to find out more about how we support any specific needs of our pupils at our 'SENDCo parent drop in'. Please see the diary dates for the next session in the Spring term.
8th-14th Nov - Thank you to our teachers and FOPS for staffing the book fair and to our pupils and parents for supporting this event and grabbing a good read!
11th Nov - We were very proud of our pupils, past and present, who joined us and the local community to observe 2 minutes silence. Our thanks to Mr Bryant for organizing the poppy campaign at Petersfield and to the Standard Bearer who led us from school to Chequers.
10th Nov - Pine class enjoyed an excellent visit to the British Museum. Thanks to our staff and volunteers for enabling this visit.
10th Nov - Congratulation to those who deserved our Headteacher Awards today. We are very proud of the excellent learning and attitudes to learning being demonstrated.
9th Nov - We were delighted to welcome prospective parents to our Open Afternoon for September 2018 intake. We were very impressed with how the children joined in with the learning in class. We look forward to welcoming new pupils and parents back. The deadline for applications is 15th Jan 2018.
8th Nov - What an exciting medieval day in EYFS and KS1 today! Music, dancing, arts, crafts, cooking, and of course a banquet, were all enjoyed in costume. What a great day of learning!
Latest Publications
Notices