FOPS (PTA)
Parent Teachers Association
Petersfield FOPS is a well-established partnership between parents, teachers and the local community that aims to strengthen the school community and raise funds. Money raised by FOPS is to fund the 'extras' that the school would not otherwise be able to provide. Decisions about what to fund are made each year by the FOPS committee with input and requests from parents and teachers alike.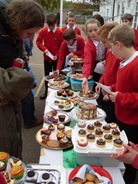 Regular FOPS events through out the school year include:
Fireworks night - a night of fun and fireworks for the whole family offering a good-value night with BBQ, Glosticks, mulled wine and hot chocolate, sweets and more!
The Christmas Fayre - a chance for the children to share the excitement of Christmas with a cake stall, teas and coffees, secret presents, a raffle, tombola, and games stalls.
Schools Discos - Key stage 1 and 2 discos held each term as a chance for pupils to get together with their friends and have fun. We sell sweets and drinks, do face-painting, temporary tattoos and nails.
RUN ORWELL – Offering chipped timed 5k and 10k routes and a 2k fun run, save the date – 30th June 2019
Cake stalls - organised by the pupils and held once a half term hosted by each class in turn. It is a great way for pupils and parents to get involved as they help sell the cakes to the rest of the school and other parents.
Annual Quiz night - a great night out, and it does get quite raucous at times!
The Giving Machine allows you to shop at all major retailers and at the same time generate a donation to the FOPS without any cost to you. Just follow the link and sign up, adding 'Petersfield' as your cause to support.
The FOPS have set up an online ticket office for you to buy your tickets to the wonderful events run throughout the year such as the 'Pop Up Circus'. Here you can pay with credit or debit card. Please visit our PTA Website to see what's on sale and find out about upcoming events.
Examples of how FOPS funds have been used:
To improve the school library
Support the cost of school trips
Fund Mathletics - the ever popular maths software that is used in school and can be accessed from home
Provide additional resources and equipment
If you would like to get involved in some way, send us suggestions or feedback, please email the PTA: petersfieldpta@hotmail.com.
Latest News
17th May - We celebrated the pupils' varied achievements in assembly. All of year 6 achieved an award due to their hard work and positive attitude this week. Mr Hollands presented his cup to a child who demonstrated a great willingness to learn the piano and play in a band in the Rock Steady group.
16th May - Well done Year 6. SATs are done! You are a credit to yourself and Peterfield School!
15th May - School is open, we have power!
14th May - Whilst the repairs are still underway and power has not been restored to all of the village yet, they expect the power to repaired fully by the start of school tomorrow and therefore school is expected to be open as usual on Wednesday 15th May. Any necessary updates will be posted here.
2:45pm Tuesday 14th May - Due to a power line that is known to be damaged, school has no power, water, email or phone line. We are therefore contacting Puffins parents to inform them we cannot run Puffins tonight.
13th May - Well done year 6! You greeted the start of SATS week with a smile and brilliant concentration in the tests. The juice and biscuits were also a highlight!
10th May - Next week will be SATS week for our Year 6 pupils. We are very proud of them! We are sure they will do their very best and showcase all they have learnt in their time at Petersfield. We have encouraged them to have a restful weekend in preparation for next week.
9th May - Thank you to the Women of Orwell who invited Mrs Gwynn to their meeting to speak about our school and how the wide variety of support and skills shared by members of our local community makes such a difference to our pupils.
9th May - Not only did Pine Class learn so much to support their topic work on their visit to the Botanic Gardens but the bus driver said that in all his years of driving schools he had not had such well-behaved children. Well done Pine Class!
6th May - School closed for the May Day Bank Holiday.
3rd May - Children in year 3 and 4 took part in Bikeability training today. They had to show balance and control skills on their bikes, whilst having fun too!
3rd May - The pupils in Ash class presented their learning in their class assembly this morning in a variety of ways, from counting numbers to reciting 'We're going on a bear hunt'. It was uplifting hearing them sing 'This is me!' from 'The Greatest Showman'.
2nd May - Our KS2 pupils took part in a cross county inter-schools competition. They all worked hard, running the course with enthusiasm and determination.
2nd May - We were very proud of our 4 year 5 pupils who took part in the Maths Challenge in Cambourne. They demonstrated they could work well as a team and used their reasoning, fluency and problem solving skills. Well done!
30th Apr - Thanks to Elm class for the delicious cakes and to the whole school for supporting this event to raise money for FOPS.
Latest Publications
Notices