Behaviour
Our school rules are discussed and agreed with all staff and pupils annually.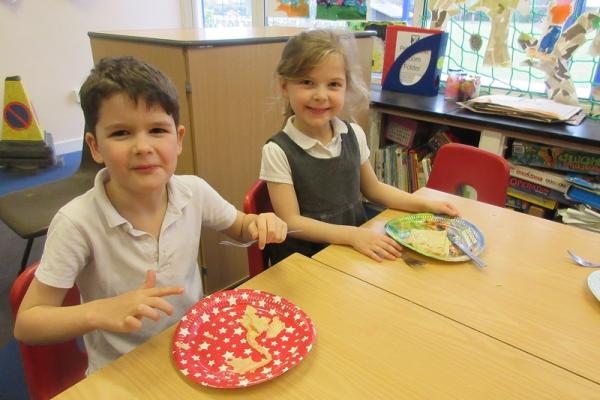 Our School Rules
We are kind - we don't hurt other people's feelings
We are honest - we don't cover up the truth
We listen carefully - we don't interrupt
We are gentle - we don't hurt others
We work hard - we don't waste our own or other people's time
We look after property - we don't damage things
Our Code of Conduct
Pupils should behave in such a manner that they cause no harm or damage to property nor harm the reputation of the school.
All pupils should be smart in appearance and appropriately dressed for all school activities.
Pupils should listen carefully to teachers, and speak to them and to others politely and with respect.
Pupils should work quietly and sensibly in class, not distract or annoy others, and show courtesy and consideration at all times.
No bullying of any kind will be tolerated.
Pupils should move calmly and quietly about the school.
Pupils should take care of the school buildings and surroundings.
Pupils must not leave the premises during the school day without permission.
About our Behaviour Policy
At Petersfield we are very proud of our pupil's behaviour and their embodiment of our Christian ethos.
We seek to encourage pupils, staff and visitors to develop a caring and responsible attitude and to recognise the consequences of their own actions and decisions. We encourage pupils to develop Christian values, placing a strong emphasis on learning the difference between right and wrong.
Good behaviour is encouraged through positive relationships, understanding children's needs, good teaching and an engaging curriculum. We use various additional strategies where appropriate.
Our aim is to establish clear objectives and strategies that promote the positive ethos of the school and encourage the right conditions for teaching and learning, enabling all children to succeed in a happy and safe environment.
Effective behaviour management can only be achieved by a collective and consistent approach by all members of staff, who must embody the school values themselves, modelling their implementation to the pupils. It is they who determine the environment in which good staff and pupil relationships can develop. Staff will show empathy and differentiate their approach to children according to their needs.
We want children to be thoughtful, respectful and kind for its own sake, not for a reward. However, we do recognise and encourage special effort, success and kindness in a variety of ways. Restorative approaches are our main strategy for dealing with negative behaviour, helping children to understand the consequences of their behaviour and its impact on others. Protective and Educational Consequences are used to help modify behaviour and to keep the school safe.
In response to a whole school focus on behaviour including training for all staff in the County 'Steps' approach, our Promoting, Celebrating and Managing Behaviour, Discipline and Conduct at Petersfield Policy has been drafted to include our:
Behaviour policy
Visitor Behaviour Policy
Anti bullying policy
Anti racism policy
Physical restraint policy
High priority is given to clear communication within the school and to positive partnerships with parents. Our expectations are made clear in our Home School Agreement and in all contact with parents. Where the behaviour of a child is giving cause for concern it is important that all those working with the child are aware of those concerns and of the steps which are being taken in response. The class teacher is responsible for establishing and maintaining contact with parents of children whose behaviour is a cause for concern, with the involvement of the Senior Leadership Team where appropriate.
The behaviour policy outlines the clear staged approach to classroom behaviour management and identifies how we recognise achievement.
There are 3 Houses at Petersfield Primary School: blue, yellow and green. When children start school, they are allocated a House team. Pupils are awarded 'Team Points' for good behaviour and excellent learning. Each reward in a book (e.g. sticker or 'TP') earns a team point. Adults may also give team points for excellence around the school.
Our focus on the 'Growth Mindset' and the 'Learning Pit' encourages pupils to persist with determination when a maths problem or science experiment poses a tricky conundrum to solve.
Our Visitor Behaviour Policy aims to ensure, as far as we reasonably can, the safety of our pupils, staff and visitors (including parents) that have contact with the public. It is important that anyone on the school site is treated fairly, without experiencing unreasonable behaviour or discrimination.
Whilst incidents of bullying are rare, our Anti-bullying policy sets out our aims to develop a school ethos in which bullying is regarded as unacceptable and how we deal effectively with any incidents which do occur.
Again, whilst incidents of prejudice, including racism are very rare at Petersfield, racism is not tolerated in our school under any circumstances. We aim to provide a curriculum which emphasises the positive aspects of all cultures, to make our school a safe and welcoming place for all its members and to provide an environment in which racist assumptions, attitudes and behaviour are continually challenged.
The vast majority of children and young people demonstrate behaviour that is perceived as both appropriate and good. However, there are a minority of children who exhibit challenging behaviour. Our physical restraint policy sets out our expectation that Petersfield is committed to ensuring that all our staff and adults with responsibility for pupil's safety and welfare will deal professionally with all behavioural incidents and only use physical intervention as a last resort in line with DCSF and Cambridgeshire County Council's guidance.
View Our Behaviour Policy and Leaflet
Latest News
18th Nov - This week is our 'Walk to School Week'. Do please join us each day at the Chequers to form a pupil, parent and staff 'walking bus' from 8.45am. Thank you.
15th Nov - Staff and governors, met with Angela Lawn from the YMCA to discuss the findings from our staff and pupil wellbeing surveys. We will now work on the actions from the surveys as we continue to improve wellbeing in our school and ensure we all understand why this is so important.
15th Nov - Today we wore odd socks for 'Children in Need' and raised £77.02. In assembly we discussed what charity means and the history of 'Children in Need'.
14th Nov - Our Year 5 and 6 pupils had 'Playleader' training today from County. This training is invaluable as it provides our older pupils with the skills to engage and lead a variety of games with all the children in our school.
14th Nov - Thanks to Croudace for allowing a visit, Ash and Elm class learnt about house building as part of their topic work.
13th Nov - Thanks to FOPS funding, Divergent Drama led workshops on Anti-bullying today.
11th Nov - Congratulations to our netball team who finished 2nd in their first competition!
11th Nov - 'We will remember them'. Year 6 joined the local community to mark the 2 minutes silence today whilst the rest of the school observed the silence in school after 'planting' their poppy sculptures.
10th Nov - Staff and pupils attended the Remembrance Service at the Methodist Church today.
8th - At Headteacher Award Assembly today, we were inspired by the attitude to learning of our pupils. Many of the children received an award for their determination and resilience, displaying the attitude of a growth mindset. Well done!
7th Nov - Mrs Sirett was impressed with the children who attended the Outdoor Orienteering Activity Event. For many it was their first experience of competitions yet they really displayed the spirit of the games!
1st Nov - Wow! Another amazing fireworks display tonight! Our thanks to Steve and his team and all of the FOPS volunteers and staff. We dedicated tonight's fireworks to the memory of Susan Walford.
1st Nov - Using their oracy skills, the children explained to parents, grandparents and peers, the home learning they had undertaken over the half term.
31st Oct - Pupils in Y5 and Y6 enjoyed a dramatic theatre group presentation about keeping our air clean and how we need to look after our environment. 'It was fun, with an important message too'.
29th Oct - We now have three choices on our new lunch menu each day. Happy choosing!
Tuesday 29th Oct - Welcome back to Autumn half term 2! It was great to share the children's excitement as they recounted their half term and to see the busy learning today.
28th Oct - First Aid training for all staff today.
Latest Publications
Notices