School Uniform
Ordering School Uniform
Click here to view our uniform website and purchase your Petersfield Primary School uniform online.
Clothing
The uniform consists of the following:
Plain, black leather shoes not boots or trainers and without high-heels, wheelies, platforms, fleece lining or slippery soles
If a pupil wears boots on the journey to school, black plimsoles can be worn indoors
White sandals in the summer
Plain white, red, black or grey socks or tights
A white polo shirt / white shirt
Grey trousers
Grey shorts
Grey knee-length pinafore dress
Grey knee-length skirt
In the summer, red and white checked summer dresses may be worn
A cardigan or sweatshirt in (Petersfield) red - available online with the school logo
Fleeces are for outdoor use only
PE Uniform
The PE Kit consists of:
A named drawstring bag.
Black plimsolls for indoor use.
Trainers for outdoor use.
Dark plain shorts.
Dark plain tracksuit.
T-shirt - the colour of the pupil's team.
A plain sweatshirt for colder weather.
PE Uniform Information
For Physical Education it is essential that pupils are correctly dressed. A pair of shorts, school t-shirt, plus a pair of slip-on plimsolls are adequate for indoor games.
For outdoor games pupils will require a track suit or similar for the winter months plus suitable footwear (e.g. trainers).
If your child wears tights, please ensure they have a pair of socks.
The PE kit need to remain at school during the week in a small, named drawstring bag. Please take PE kit home at least once every half term for washing.
Pupils' hair (both male and female) must be tied back during P.E. to avoid danger of long hair being caught. If your child has long hair, please provide a pack of hair ties.
We are not able to remove children's earrings for them - so we ask that they do not wear earrings on PE days. Pupils cannot swim with earrings in.
For swimming, mainly in the summer months, pupils need a swimming costume (not bikinis) or trunks (baggy swimming trunks are not permitted) and a towel. Earrings must be removed, please. No spray deodorants or talc in the pool area, please. All pupils also require a swimming hat, which are on sale in the school office.
Important Information
For safety reasons we ask that pupils do not wear jewellery.
Watches may be worn during the school day but must be removed for PE.
Due to health and safety we require children to wear gold or silver stud earrings. Please ensure that piercings are done over a summer holiday, so that earrings can be removed once a child returns to school.
No other jewellery items should be worn unless they have religious significance and have been agreed with the Headteacher.
Nail varnish and make up should not be worn.
Please look to purchase second hand uniform from pupils who are leaving school.
Fleeces are for outdoor use only.
Shoes need to be suitable for active playtimes and should not have high-heels, wheelies, platforms, or slippery soles
Note that the polo shirts are much easier to change into and out of for PE, especially for the younger children.
Long hair (both male and female) must be tied back in lesson times, please supply hair bands for your child.
All clothing and other personal items brought to school by pupils should be permanently marked with their name.
Children also need appropriate winter clothing for playtime. Coats are essential and hats, gloves and scarves may be appropriate in cold weather.
Equipment
It is very useful to provide your child with an overall to protect their clothing during art and craft lessons. A discarded adult shirt or t-shirt, adapted to fit, is quite suitable.
We require that all pupils bring a change of shoes so that we can use the school field all year round. These named outdoor shoes, wellingtons or boots should be kept in the cloakroom.
A sunhat needs to be supplied in hot weather for your child. Suncream should be applied before school.
Bottles of water should be used in class, but must be replaced and replenished regularly.
Toys, especially items of sentimental value, are best kept at home or, if needed in school for a specific reason, should be given to teachers to keep them safe.
Pencil cases are not needed.
Pupils have a peg for coats and bags. We are working hard with all the pupils to ensure they establish and maintain tidy cloakrooms. Mrs Squires and Mrs Clark monitor the cloakroom and reward pupils who are caring for this environment with team points.
We take no responsibility for lost or stolen items here. County does not insure us for items brought in from home. Only the county's own property of value beyond £100 is insured against damage or theft.
Vehicles and personal possessions are left on the site at the owner's risk. Please ensure that you keep valuables safe at all times on the school site. Be aware that there is a risk that bags may be taken through smashed car windows if they are visible in the car park.
No mobile phones in school, please.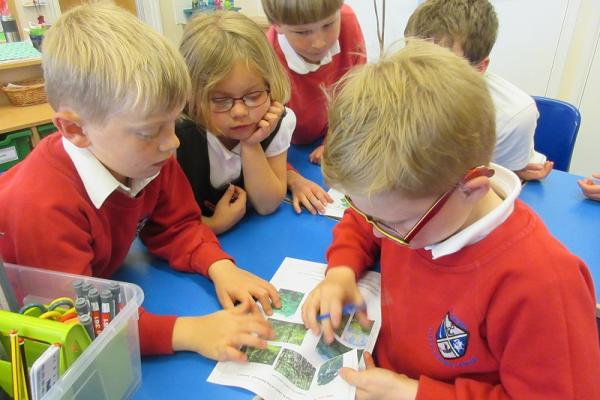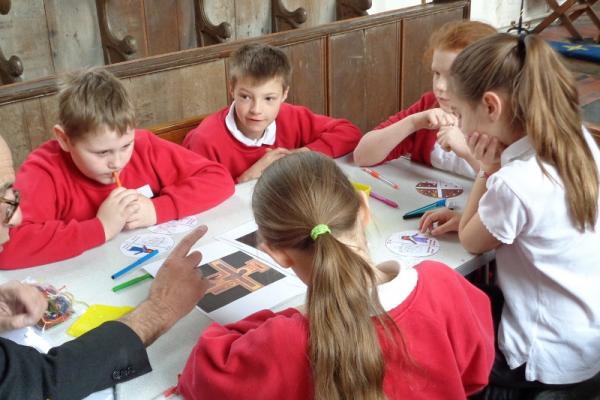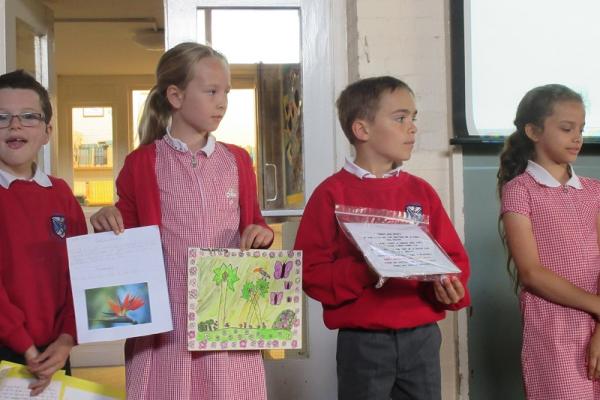 Latest News
20th June - We are looking forward to the next phase of transition as BVC visit our year 6s tonight.
20th June - Today, we were delighted to welcome Mother Goose's rising fives into school as part of their transition to school.
19th June - After an informative day of staff training on Monday, school is open to pupils, parents and visitors on Tuesday 19th June.
18th June - Monday: school is closed to pupils and parents as all staff will be attending training. We look forward to Tuesday 19th when pupils will resume learning in school.
15th June - We enjoyed a very productive afternoon with dads, granddads and male carers participating in artwork with the children. Before this in an assembly, the children were given the opportunity to these special people for all they do for them.
11th June - Today, our pupils were inspired by the Young'Uns: an English folk group who previously won the BBC Radio 2 Folk Awards 'Best Group' award. Specialising in singing unaccompanied, they worked with all of KS2 to bring history to life, sing, move and perform. Wow!
11th June - the Bikeability instructors started this week's sessions with a bike check and skills session. Thank you to parents for getting the bikes to school so pupils can learn these vital life skills.
8th June - Norwich FC came in for the first of a series of sessions. The pupil's summarised these enjoyable and educational sessions by saying: 'They come in to improve our PE skills; strength, ability and speed'.
8th June - Elm class began the whole school summer program of tennis coaching. Pupils reported: 'I enjoyed doing the catching and throwing' and 'I really enjoyed passing to my partner even though it was tricky. I want to do it again.' The coach complemented our pupils on their listening skills.
Latest Publications
Notices