PTA
Parent Teachers Association
Petersfield PTA is a well established partnership between parents and teachers that aims to strengthen the school community and raise funds. Money raised by the PTA is to fund the 'extras' that the school would not otherwise be able to provide. Decisions about what to fund are made each year by the PTA with input and requests from parents and teachers alike.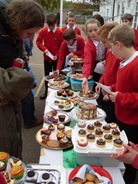 Regular PTA events through out the school year include:
Fireworks night - a night of fun and fireworks for the whole family offering a good-value night with BBQ, Glosticks, mulled wine and hot chocolate, sweets and more!
The Christmas Fayre - a chance for the children to share the excitement of Christmas with a cake stall, teas and coffees, secret presents, a raffle, tombola, and games stalls.
Schools Discos - Key stage 1 and 2 discos held each term as a chance for pupils to get together with their friends and have fun. We sell sweets and drinks, do face-painting, temporary tattoos and nails.
Summer Fayre - An extravangaza of summer fun with a huge range of fun stalls, games, raffles, bouncy castles and lots more too!
Cake stalls - organised by the pupils and held once a half term hosted by each class in turn. It is a great way for pupils and parents to get involved as they help sell the cakes to the rest of the school and other parents.
Annual Quiz night - in the Autumn term, a great night out, and it does get quite raucous at times!
The Giving Machine allows you to shop at all major retailers and at the same time generate a donation to the PTA without any cost to you. Just follow the link and sign up, adding 'Petersfield' as your cause to support.
The PTA have set up an online ticket office for you to buy your tickets to the wonderful events run throughout the year such as the 'Pop Up Circus'. Here you can pay with credit or debit card. Please visit our PTA Website to see what's on sale and find out about upcoming events.
Examples of how PTA funds have been used:
To improve the school library
Support the cost of school trips
Provide additional resources and equipment
If you would like to get involved in some way, send us suggestions or feedback, please email the PTA: petersfieldpta@hotmail.com.
Latest News
20th June - We are looking forward to the next phase of transition as BVC visit our year 6s tonight.
20th June - Today, we were delighted to welcome Mother Goose's rising fives into school as part of their transition to school.
19th June - After an informative day of staff training on Monday, school is open to pupils, parents and visitors on Tuesday 19th June.
18th June - Monday: school is closed to pupils and parents as all staff will be attending training. We look forward to Tuesday 19th when pupils will resume learning in school.
15th June - We enjoyed a very productive afternoon with dads, granddads and male carers participating in artwork with the children. Before this in an assembly, the children were given the opportunity to these special people for all they do for them.
11th June - Today, our pupils were inspired by the Young'Uns: an English folk group who previously won the BBC Radio 2 Folk Awards 'Best Group' award. Specialising in singing unaccompanied, they worked with all of KS2 to bring history to life, sing, move and perform. Wow!
11th June - the Bikeability instructors started this week's sessions with a bike check and skills session. Thank you to parents for getting the bikes to school so pupils can learn these vital life skills.
8th June - Norwich FC came in for the first of a series of sessions. The pupil's summarised these enjoyable and educational sessions by saying: 'They come in to improve our PE skills; strength, ability and speed'.
8th June - Elm class began the whole school summer program of tennis coaching. Pupils reported: 'I enjoyed doing the catching and throwing' and 'I really enjoyed passing to my partner even though it was tricky. I want to do it again.' The coach complemented our pupils on their listening skills.
Latest Publications
Notices