Music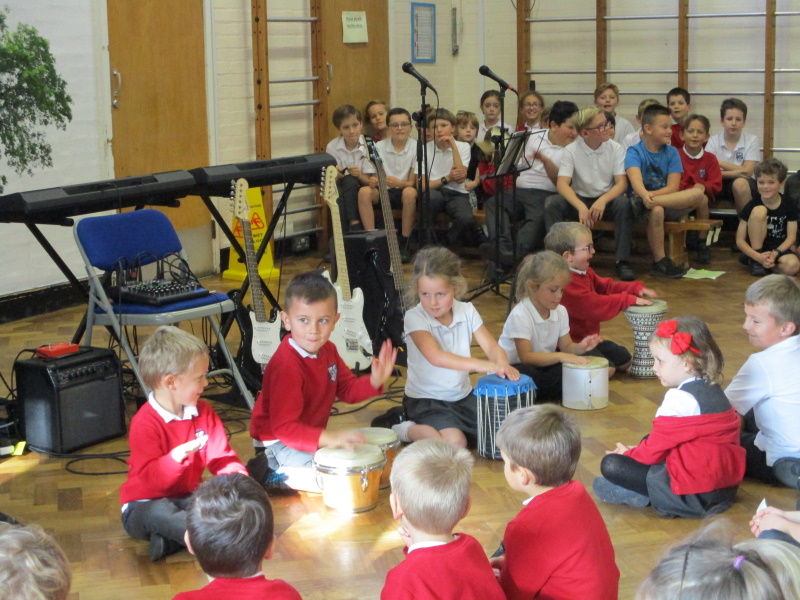 It is our aim for pupils to enjoy a variety of musical experiences whilst they are at Petersfield. Music is usually taught as a class activity. We use the online Music Express curriculum to deliver our main music curriculum. This includes the teaching of musical knowledge, concepts and skills are part of a broad and balanced curriculum, based on the skills of: singing and performing, composing, listening and responding to recorded music.
In order to deepen their skills as musicians, pupils will be shown a variety of instruments and music and asked about how they help us to engage emotionally and physically. They will be taught how to respond to music compositions and musical sounds so they can create and compose their own musical ideas and compositions with an increasing level of independence and recording as they move throughout their school career. Children are encouraged to identify and play a selection of instruments, with their sounds, patterns and contrasts in music spanning a range of genres, and use them to combine a range of instruments and voice/body to create percussive and melodic compositions.
We enable children to enjoy music through the development of listening skills and musical appreciation of live and recorded music. We use the BBC 10 pieces as part of our wider listening and appraising across the school and ensure good coverage of the history of music including living composers. Children are invited to choose music to listen to in our Collective Worship and assemblies. Teachers use the 2021 model music curriculum document to help engage the children in age appropriate music and a wide range of repertoire and musical genres. Children learn about a wide range of musical periods and of significant composers throughout Britain and the world in both lessons and in whole school sessions.
They will be encouraged to sing regularly with a view to perform at least annually to a wider audience. The vocabulary children use to discuss music will be built on each year. Each class has music playing during the day, this is to provide a pleasant and calm environment and to further more explore the variety of musical styles and periods.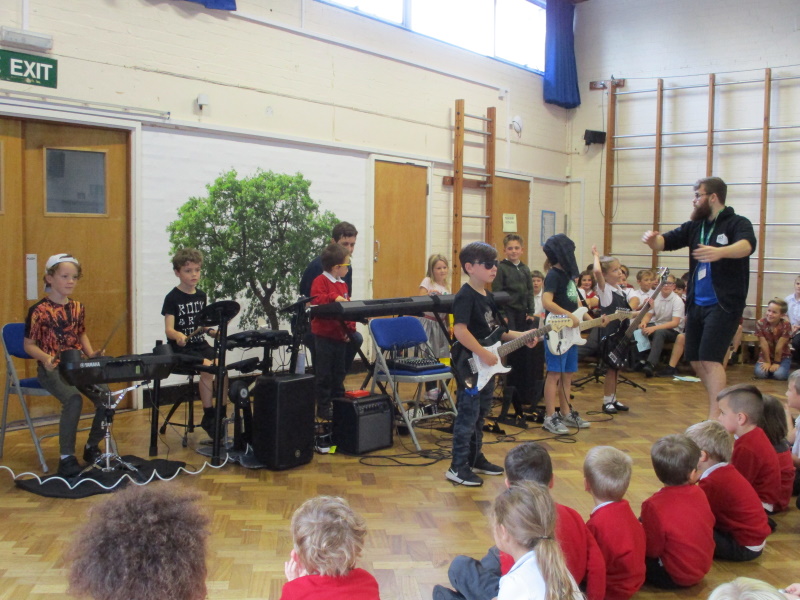 Peripatetic Musical Tuition
Pupils have the opportunity to learn to play the piano with Mrs Lynn and many instruments in a band in the Rock Steady group, such as electric guitar, drums, and keyboard and use their vocals.
Hollands Cup
This cup is awarded half termly to a musician who has been recognised for outstanding musical achievement in school music lessons. It was presented to our school by Mr Don Hollands, a long time good friend to our school, pianist and a past parent. In July 2021, we introduced the Hollands Trophy in memory of Mr Hollands. This Trophy is awarded to a child who has excelled in their extracurricular music activities and we invite nominations from music teachers who work at Petersfield and those who teach our pupils outside of school. In July 2021, this new trophy was introduced following our inaugural virtual music extravaganza where pupils who learn an instrument in school or at home were invited to contribute to a virtual performance.
The Young'uns
This amazing folk band have visited our school on four occasions and worked with both the whole school and with Pine class, as part of "When Cambridgeshire Sings". They have explored British Values, history and our locality through music. We look forward to working with them again soon! Most recently, they took us on a time-travelling journey, stopping at key periods in Orwell's history. At each stage we took part in activities and sung songs linked to that time. For example, we went back 100,000 years to when there were lions, hyenas, bears and other animals living around here. We learned about the Barrington Hippo which was discovered in the Barrington Cement Works and can be seen in the Sedgwick Museum in Cambridge. We listened to a song all about the Barrington bones! We really enjoyed learning and singing the sea shanties and we learned that the sailors used them to create a rhythm for when they were working together. They also sung them to bring people together and motivate themselves.
This time we created an anthem which celebrates all the good things about Petersfield School. They performed our anthem in our assembly at the end of the day.
We're Petersfield school we sing out loud
Five strong trees we're standing proud
Ash, Elm, Pine, Rowan and Yew
With love and peace we'll sing to you
We're Petersfield school, we're Petersfield school
Together we work and play
We'll grow up smart with love in our heart
We're Petersfield school - hooray!
A recording of the Petersfield School anthem is available to watch on the school website below.

The Young'uns on Twitter

The Orwell Pit of History - Written by pupils from Petersfield Primary School, Orwell
Click here to listen:
Petersfield School Anthem
Bert Trautmann Chants
Peasants' Revolt Rap
As a result of 'When Cambridgeshire Sings', we are excited to have have teamed up with Historic England to develop this project further! We look forward to working with them again soon!
Young Voices
Each year pupils in Year 5 and 6 have the opportunity to go to the O2 to be part of the biggest choir in the world! We learn the songs and then sing to the whole school in a special celebration assembly.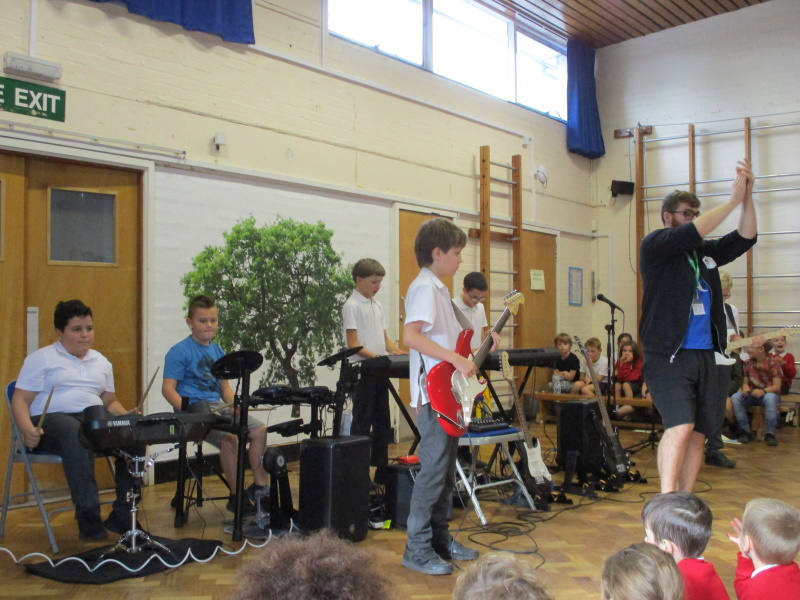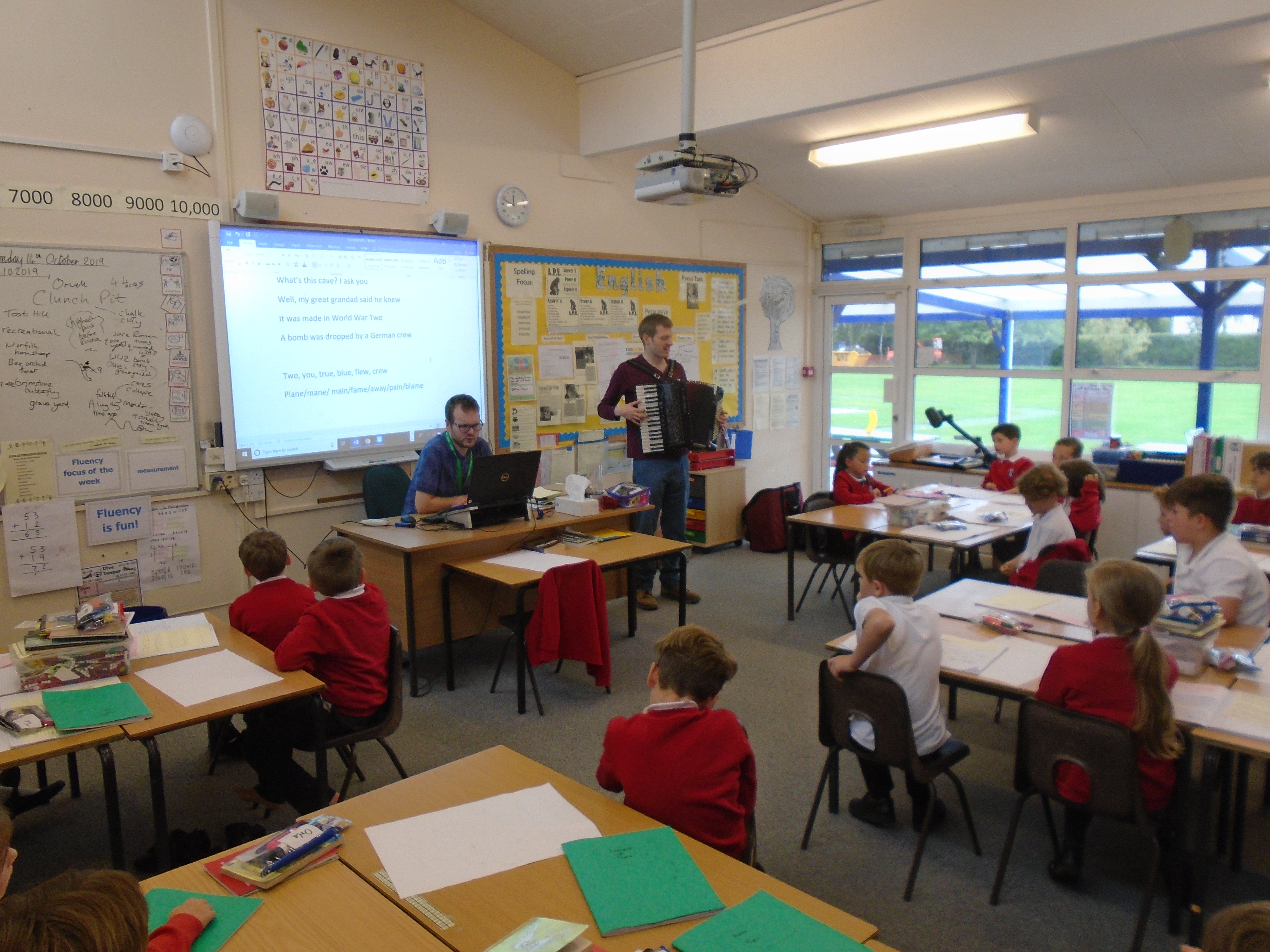 Latest News
7th Nov - Today we welcomed Mrs Chadwick into school to meet staff, pupils and some parents at the gate. Mrs Chadwick is really looking forward to starting as Co-Headteacher in January. Do say 'hello' when you see her!
3rd Dec - Today we welcomed our County Primary Advisor, Emma Fuller, into school virtually. She was pleased to report on our effective safeguarding.
2nd Dec - Tonight FGB met virtual to review the work of the school. One action was to agree the 2022-23 term dates which will be uploaded to the website soon.
2nd Dec - This afternoon we welcomed Mrs Coulson, our Diocese EDRA, into school virtually. It was lovely to share our curriculum learning with her and to talk about how our reflective areas have continued to be well used despite necessary modification over the last year.
2nd Dec - What a showcase of your curriculum learning your assembly was Yew Class! Well done! You indeed have the power in you! Thank you to all the parents who joined us.
1st Dec - Today, we explored our next 'Walk through the Bible' story.
1st Dec - Breathe in! Well done everyone, flu vaccinations were administered by the wonderful visiting health team at Petersfield today.
30th Nov - Thank you to Rev. Felicity for leading our virtual Christingle service. This is always a moment of awe and wonder. Rev Felicity lit her advent wreath. Ours is in Ash class this year so our youngest pupils can see it in person.
30th Nov - Today we were delighted to welcome the English Advisor into school to review the fantastic writing in KS1. Whilst she only met with Miss Way and Mrs Penrose to review the books due to Covid, we were able to celebrate the quality of the writing and plan for future teaching and learning.
26th Nov - INSET day. School is closed on Friday 26th November to all pupils, parents and visitors for staff training.
25th Nov - In today's Celebration Collective Worship, pupils and staff who have shown generosity were recognised. Children were tasked with being generous with their time over the INSET long weekend.
24th Nov - Wow Ash class! Your biscuit making looked so fun. What superb biscuits you made.
24th Nov - We enjoyed showcasing year 5 and 6 writing as we worked with the English advisor yesterday.
19th Nov - Thank you for everyone's generosity in donating to Children in Need on Own Clothes day.
19th Nov - Today we virtually shared the Road Safety learning which had taken place in each class this week. The posters to remind us all how to keep safe, especially when it is dark, are to be posted around the school.
19th Nov - Well done to year 3 and 4 for their Bikeability participation today.
18th Nov - 'Brilliant' and 'Fantastic' were just two of the words used in feedback to describe the fantastic Rowan Class Assembly today. Well done done Rowan Class!
17th Nov - Well done to our top 3 finishers, all our runners for taking part and to our fantastic pupils who cheered on their team mates and other schools at the Cross County.
12th Nov - This morning pupils and staff were full of smiles as they headed off to their first school visit - West Stow - in a long time.
11th Nov - Whilst Governor meetings, continue to be virtual, governors continue to dedicate their time to ensuring the strategic vision of the school. The focus for this evening's meeting included the recent behaviour training and the School Development Plan area of writing.
11th Nov - We continue to offer socially distanced, bespoke, external tours of the school for our September 2022 EYFS pupils. Today it was lovely to meet more preschool pupils. If your child is due to start school and you would like to book, please do contact the school office.
11th Nov - After following the standard bearer to the village gathering, Yew class joined the local community to mark the 11th November. In school, we also observed the silence and children brought in photos of family members in the forces to share.
11th Nov - Today, our Local Royal British legion representative joined us to unveil our pupil designed friendship bench, dedicated to the memory of Mr Bob Bryant, a long time great friend to Petersfield.
10th Nov - The range of skills and knowledge showcased through this half term's homework projects are again fantastic to see. The children have started sharing their learning with their class today.
9th Nov - Today our Collective Worship focuses on Remembrance and memories. Mr Hollands' son made a fantastic presentation to show how the wonderful new Hollands Trophy was made.
4th Nov - Thank you to the new FOPS committee who met tonight. Their tireless work to support the school with fun events and fundraising is much appreciated.
4th Nov - Congratulations to our Hollands Cup and and Hollands Trophy winners today for excelling in music this term.
4th Nov - Today everyone was absolutely delighted to receive the Hollands Trophy which has been handmade by Chris Holland. This is a truly magnificent trophy and a fitting tribute in memory of Mr Hollands, a long standing supporter of music at Petersfield.
4th Nov - Well done to all our Headteacher Awards recipients today. Thank you to all the parents who joined us to share in recognising the many successes over the Autumn 1 half term.
3rd Nov - Thanks to our super year 6 English Challenge team, we came third and within 2 points of the winner in today's heat. What a super display of literacy skills and team work!
3rd Nov - Our pupil led basket ball sessions are proving VERY popular at lunchtime. Well done year 6!
2nd Nov - Our new Collective Worship theme is 'Generosity'. Together we have been thinking about examples of generosity shown in our Petersfield school community.
2nd Nov - Today we have talked about changes to break and lunchtimes and the children did a great job of showcasing these changes.
2nd Nov - Welcome back! It is great to have everybody back in school today and so enthusiastic about their learning!
1st Nov - After a busy INSET day of learning and planning, we look forward to welcoming pupils back tomorrow. Today's training focus was on promoting positive behaviour.
22nd Oct - Wow! Our Ash and Elm Black History Celebration was beautifully presented to KS2.
22nd Oct - School is now closed for the half term holiday. If you have a Covid case in the next 2 days, please do contact the school via the school email. Remember the clocks change and Monday 1st November is an INSET day! School will reopen to pupils, parents and visitors on 2nd November.
22nd Oct - Today is dedicated to the memory of Martyn Green.
22nd Oct - Following Parents' Evening, a copy of your child's report has come home today.
22nd Oct - Well done to our Year 6 children who have suggested the basket ball club, set it up, organised the resources, practised and are now ready to run taster sessions. Don't forget to complete their sign up sheet after half term!
21st Oct - Today saw the first of a two-part Collective Worship where pupils shared their curriculum learning, their work as part of Black History Month and linked this to our theme of being a 'light' to others.
21st Oct - Thank you to all the parents and carers who joined us for Parents' Evening tonight.
20th Oct - Thank you to everyone who joined the FOPS (PTA) AGM tonight. Welcome to the new Committee members. Thank you for the agreed donations to the school for the academic year.
20th Oct - Our Year 5 and 6 Playleaders completed the morning of training ready to support their peers at break times after the half term holidays.
21st Oct - Thank you to everyone who joined us for tonight's parent-teacher meetings. These are so important in supporting the children's learning.
Latest Publications
Notices