Music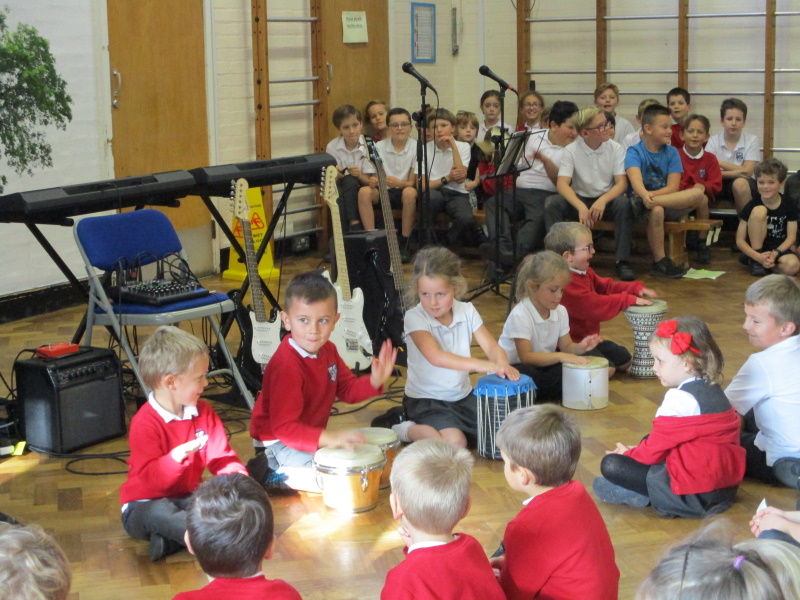 It is our aim for pupils to enjoy a variety of musical experiences whilst they are at Petersfield. Music is usually taught as a class activity. We use the online Music Express curriculum to deliver our main music curriculum. This includes the teaching of musical knowledge, concepts and skills are part of a broad and balanced curriculum, based on the skills of: singing and performing, composing, listening and responding to recorded music.
In order to deepen their skills as musicians, pupils will be shown a variety of instruments and music and asked about how they help us to engage emotionally and physically. They will be taught how to respond to music compositions and musical sounds so they can create and compose their own musical ideas and compositions with an increasing level of independence and recording as they move throughout their school career. Children are encouraged to identify and play a selection of instruments, with their sounds, patterns and contrasts in music spanning a range of genres, and use them to combine a range of instruments and voice/body to create percussive and melodic compositions.
We enable children to enjoy music through the development of listening skills and musical appreciation of live and recorded music. We use the BBC 10 pieces as part of our wider listening and appraising across the school and ensure good coverage of the history of music including living composers. Children are invited to choose music to listen to in our Collective Worship and assemblies. Teachers use the 2021 model music curriculum document to help engage the children in age appropriate music and a wide range of repertoire and musical genres. Children learn about a wide range of musical periods and of significant composers throughout Britain and the world in both lessons and in whole school sessions.
They will be encouraged to sing regularly with a view to perform at least annually to a wider audience. The vocabulary children use to discuss music will be built on each year. Each class has music playing during the day, this is to provide a pleasant and calm environment and to further more explore the variety of musical styles and periods.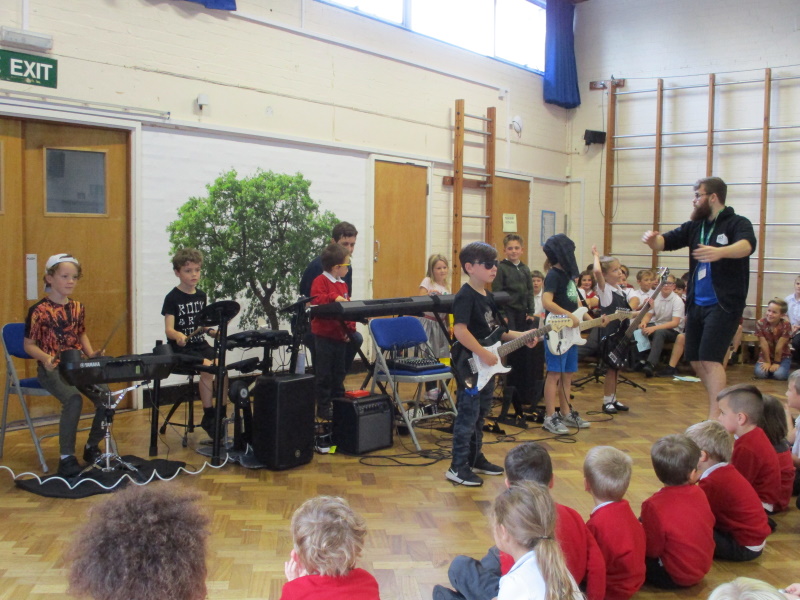 Peripatetic Musical Tuition
Pupils have the opportunity to learn to play the piano with Mrs Lynn and many instruments in a band in the Rock Steady group, such as electric guitar, drums, and keyboard and use their vocals.
Hollands Cup
This cup is awarded half termly to a musician who has been recognised for outstanding musical achievement in school music lessons. It was presented to our school by Mr Don Hollands, a long time good friend to our school, pianist and a past parent. In July 2021, we introduced the Hollands Trophy in memory of Mr Hollands. This Trophy is awarded to a child who has excelled in their extracurricular music activities and we invite nominations from music teachers who work at Petersfield and those who teach our pupils outside of school. In July 2021, this new trophy was introduced following our inaugural virtual music extravaganza where pupils who learn an instrument in school or at home were invited to contribute to a virtual performance.
The Young'uns
This amazing folk band have visited our school on three occasions and worked with both the whole school and with Pine class, as part of "When Cambridgeshire Sings". They have explored British Values, history and our locality through music. We look forward to working with them again soon!

The Young'uns on Twitter

The Orwell Pit of History - Written by pupils from Petersfield Primary School, Orwell
Click here to listen:
Bert Trautmann Chants
Peasants' Revolt Rap
As a result of 'When Cambridgeshire Sings', we are excited to have have teamed up with Historic England to develop this project further in 2020-21!
Young Voices
Each year pupils in Year 5 and 6 have the opportunity to go to the O2 to be part of the biggest choir in the world! We learn the songs and then sing to the whole school in a special celebration assembly.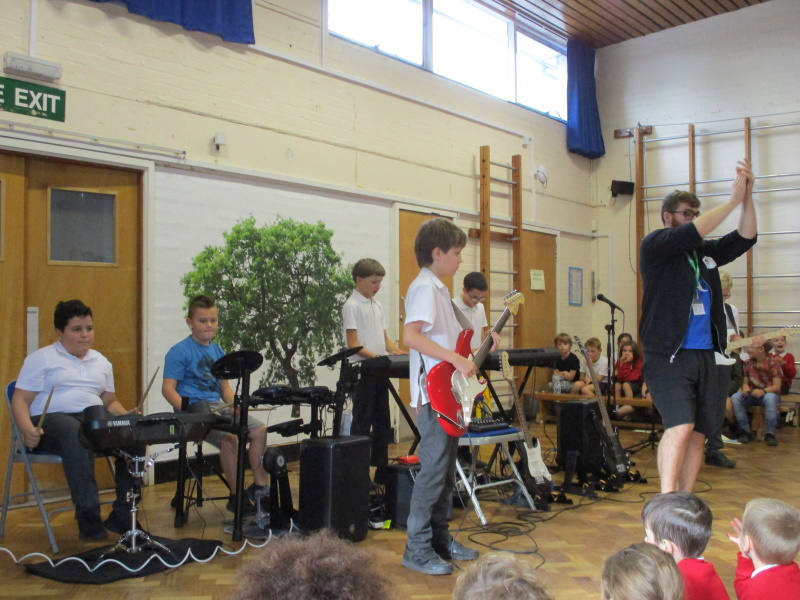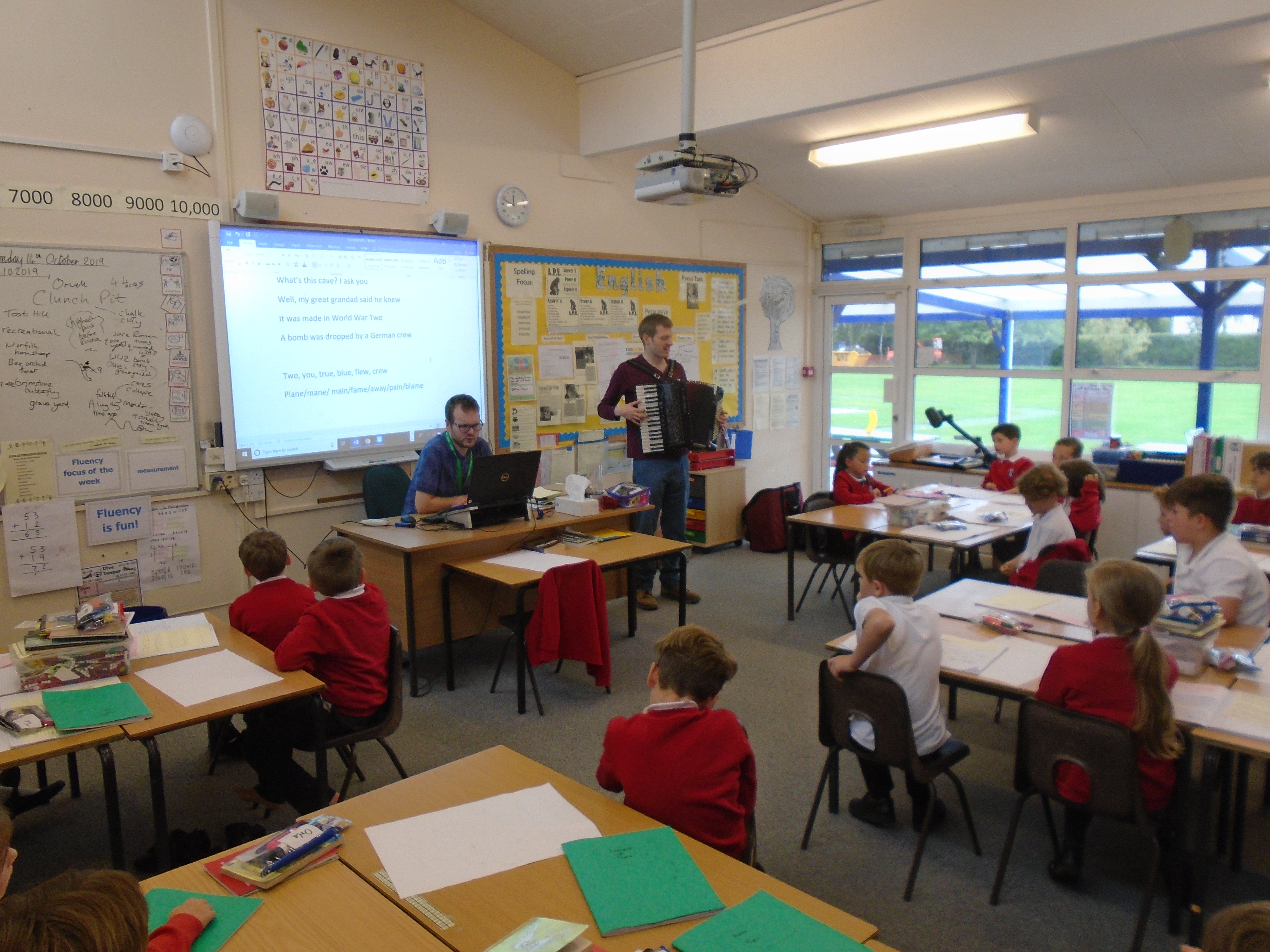 Latest News
15th Oct - Following on from the mask creations last week, this week, Elm class created their own floats for the carnival. Our school value of creativity was on show everywhere you looked!
14th Oct - Today we were pleased to welcome Mrs Coulson, our Diocese link, into school virtually. As usual, our pupils beautifully articulated their thoughts about the school. Mrs Coulson said 'The pupils are obviously keen learners and are so proud of their classrooms and their achievements.'
12th Oct - This week our Collective Worship has explored Respecting Others. Lots of great examples have been identified. Everyone in school continues to be invited to celebrate great examples of this showcased in school.
7th Oct - Today we welcomed Mrs Fuller, our County Advisor, into school virtually. She was very impressed with all the pupils she spoke to. They were bubbling with enthusiasm about their learning and explained out metacognition learning powers to her as well.
6th Oct - Rowan and Pine class visited Chapel Orchard today to create their own Andy Goldsworthy inspired art work.
5th Oct - Today we introduced this year's Shoe Box Appeal. You can find out more in this week's Petersfield Press.
4th Oct - Smile! It is school photograph day today!
4th Oct - It is only 9:20am and as a school, we have already written a school song with the wonderful Young'Uns who are working with each class for musical workshops throughout the day today!
1st Oct - Today we welcomed the County English advisor into school. She was able to celebrate all the fantastic writing evident in school whilst also offering further training for staff as we continue to prioritise developing children's writing skills at Petersfield.
30th Sept - Today, the children reflected on our theme of things that are special. We thought about the support Mrs Roberts has given so many children in school and Puffins as we celebrated her work in our Head Teachers' Collective Worship.
29th Sept - Today, the whole school reflected on what it means to be a good friend, how we play together and show respect. A group of children then work together to assemble another new football goal to play with at break times.
25th Sept - We won first prize at the Gransden show for our Food to Fork banner! Well done to the children and Mrs Bonfield for the fantastic entries.
23rd Sept - Today's Headteacher Collective Worship included recognising pupils who have been demonstrating our values to others. Creativity and friendship have been particularly apparent this week.
21st Sept - Thank you to Rev Felicity for leading our Harvest Service today. It was wonderful to be altogether on the school field and to think about our donations and who they will help.
20th Sept - Today we have begun to think about Harvest in Collective Worship. Our School Council introduced our collection for tomorrow's Harvest Festival. We are collecting money for our Malawi fundraising and food for the local food bank if you are able to donate tomorrow.
17th Sept - Well done to our EYFS who enjoyed learning in school for their first full day today.
17th Sept - Today's second virtual creative writing session led to brilliant extended writing from year 3 and 4.
16th Sept - We look forward to seeing the creative writing from year 3 and 4 following the first of two 'Beneath the Surface' virtual writing sessions today.
Latest Publications
Notices