School History
Petersfield Church of England (Aided) Primary School was officially opened on 22nd June 1962. Until that time, primary school aged children had been educated nearby in small village schools. However, by the 1950s numbers of pupils in many of these schools had fallen below sustainable levels and so the local authority began to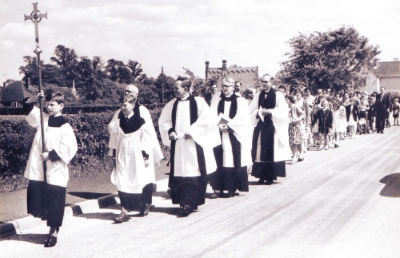 explore the possibilities for consolidating the small village schools into one larger school, which could serve the whole area. As all but one of these schools were church-run schools, the Diocese of Ely, as well as the Cambridge Education Committee, were involved in the discussions.
After three years of negotiations, a suitable site for the new school was eventually found on Hurdleditch Road in Orwell. The land was purchased from Mr H.G Peters, of Manor Farm, Orwell. The land had been known locally as 'Greenbridge Meadow', but it is from Mr Peters that the school gets its name - Petersfield.
The construction of the new school building began in 1960. The Archdeacon of Ely led a service of dedication at the site, and Mrs Bambridge of Wimpole Hall planted a commemorative tree, which still grows with vigour outside what is now the head teacher's office.
The first head teacher of the school was Mr Basil Waterton. A former naval serviceman, Mr Waterton came to the school from a deputy headship in Buckinghamshire, and was to remain at the school for twenty five years. He was succeeded as head teacher in 1986 by Mrs Barbara Radcliff.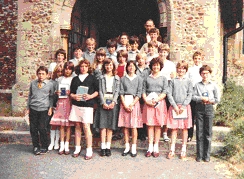 The school serves six South Cambridgeshire villages. Initially, the school would serve the villages of Orwell, Wimpole, Whaddon, Arrington and Croydon. A few years later, the school was pleased to welcome the children of Tadlow as well.
Petersfield has a special place in the community and is proud of its long tradition of excellence, innovation and service. We estimate that over 2,500 pupils have passed through our school since it opened in 1962. During our 50th anniversary year in 2012, the school's History Wall project was established to tell the school's story from its earliest beginnings to the modern day. The History Wall was unveiled on 19 May 2012 and celebrates the school's many successes and milestones over the years including:
the school's official opening in 1962, followed quickly by ...
the worst winter since 1740!
the formation of our PTA (formally the 'Friends of Petersfield')
the opening of the school's first swimming pool (originally outdoor and unheated!)
Petersfield's first television
watching the first moon landing in the school hall
the arrival of Petersfield's first computer
our special relationship with the Wimpole Estate
sporting successes
music and dance performances
educational, cultural and environmental awards
a national History Association Award for our documentary 'Following Faded Footsteps'
the opening of the school's 'Growzone'
and much, much more.
We were thrilled with the community response to our History Wall project and since have published a colourful book entitled 'Petersfield: A Celebration of 50 Years of Success in Learning' which contains a wealth of information about the history of our school. If you would like to receive a copy, please contact us.
Latest News
25th Sept - We look forward to welcoming Ofsted into school tomorrow. Parents, please do click on the link to Parentview at the bottom of the page to share your views about our wonderful school.
22nd Sept - Big smiles could be see as individual and family photos were taken to send home and to update our welcome entrance board.
21st Sept - Mrs Miller led our assembly providing an interesting report on the items discovered at last year's archeological dig at Petersfield and at other locations in the village.
20th Sept - We are delighted to have been awarded our Bronze level Modeshift STARS accreditation as a result of our Travel Plan. Our aim, through this work is ensure safe, healthy and active travelling to and around our school.
20th Sept - Today our collaboration partner Headteachers - Mrs Davies from Barrington and Mrs Davies from Foxton - joined us in school and commented on the wonderful learning environment, high quality display of our pupils' work and the calm behavior.
19th Sept - We welcomed a member of the County Attendance team into school to review our Attendance procedures. More information to follow, but please do keep an eye on new weekly monitoring of our whole school attendance figure in reception.
15th Sept - Well done to all our wonderful EYFS pupils who attended their first full day at Petersfield!
15th Sept - Congratulations to those children who were selected to receive the first Headteachers' Awards of 2017-18 thanks to their great attitude to learning so far this term.
13th Sept - We were delighted to welcome Ute, who runs our school Book Club, to Collective Worship to share her new book with us and donate a copy. See the 'Notice' section of the website to follow the link to her recent article in the Royston Crow which we feature in.
Latest Publications
Notices