Maths
We provide a comprehensive and engaging mathematics programme which follows the current Statutory Orders of the National Curriculum whilst also promoting the individual needs of our pupils. Pupils embed the 'non-negotiable' building blocks for maths as early as possible. Fluency, problem solving and reasoning are encouraged at all levels.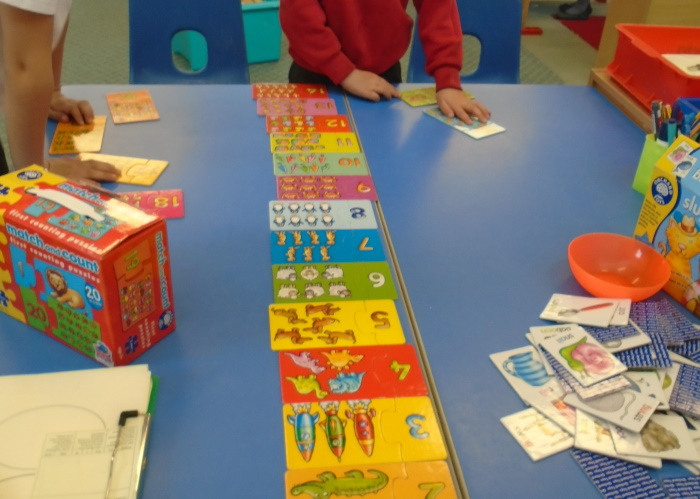 The four operations (addition, subtraction, multiplication and division) are taught incrementally so that a coherent approach is adopted throughout the school. The steps we use are detailed in our Calculation Policy. We acknowledge, however, the pupils all have preferred methods and make apparatus available in every classroom so that the pupils can access it to help themselves when and where they feel the need.
In Key Stage 1 we focus on number bonds, times tables knowledge and problem solving. Pupils develop confidence with our number system, learn about shapes, and use a variety of measures including length, mass, volume, time and money.
In Key Stage 2 we show our pupils how they can apply their existing knowledge to bigger (or smaller) or more difficult problems. We teach number and place value, the four operations, fractions, measures, geometry and statistics in progressive steps. The more complicated elements, such as percentages, ratio and simple algebra are taught in upper Key Stage 2, once the mathematical building blocks are secure.
Across the whole school we use Mathletics to reinforce topics taught in class and to encourage fluency.
Last academic year, our primary focus was maths and we made a significant investment to refresh our mathematics curriculum in line with the new National Curriculum. This included working closely with our Maths Adviser and purchasing practical maths resources for all classrooms. We are grateful to the Thomas McGregor Foundation for their donation towards this.
Latest News
22nd Nov - our 'Stay and Play' session at Peterfield welcomed prospective parents and pupils for September 2017. The application deadline for the first round of EYFS admissions is 15th January 2018.
22nd Nov - Pupils from Petersfield attended an award ceremony and were presented with our Bronze Travel Plan award and a prizes of bike and scooter storage.
21st Nov - Thanks to FOPS for the dancing, sweets and fun had at tonight's school disco.
17th Nov - Children in Need Fundraising with a dress down day.
16th Nov - We were delighted to host one of our regular induction sessions. We highly value the parent and local community support we receive to enrich the learning of our pupils.
16th Nov - In our Anti-Bullying Assembly today, we listened to how to be a good friend, why we are all unique, special and equal and the varieties of bullying. The pupils learnt more about how to deal with cyber bullying and we all agreed that Petersfield is an anti-bullying school.
15th Nov - Hands on science in Rowan Class thanks to Miss Ball! 'Mr Ashford made his hands wet, scooped up the bubbles and Miss Ball then set light to a long, long, long stick before setting Mr Ashford's hands on fire! Twice! When the flames went out, Mr Ashford's hands weren't even singed!'
14th Nov - Year 6 participated in the first of an exciting series of science lessons thanks to Johnson Matthey as organized by one of our wonderful parents.
14th Nov - we continue to invite parents and carers into school to find out more about how we support any specific needs of our pupils at our 'SENDCo parent drop in'. Please see the diary dates for the next session in the Spring term.
8th-14th Nov - Thank you to our teachers and FOPS for staffing the book fair and to our pupils and parents for supporting this event and grabbing a good read!
11th Nov - We were very proud of our pupils, past and present, who joined us and the local community to observe 2 minutes silence. Our thanks to Mr Bryant for organizing the poppy campaign at Petersfield and to the Standard Bearer who led us from school to Chequers.
10th Nov - Pine class enjoyed an excellent visit to the British Museum. Thanks to our staff and volunteers for enabling this visit.
10th Nov - Congratulation to those who deserved our Headteacher Awards today. We are very proud of the excellent learning and attitudes to learning being demonstrated.
9th Nov - We were delighted to welcome prospective parents to our Open Afternoon for September 2018 intake. We were very impressed with how the children joined in with the learning in class. We look forward to welcoming new pupils and parents back. The deadline for applications is 15th Jan 2018.
8th Nov - What an exciting medieval day in EYFS and KS1 today! Music, dancing, arts, crafts, cooking, and of course a banquet, were all enjoyed in costume. What a great day of learning!
Latest Publications
Notices