EYFS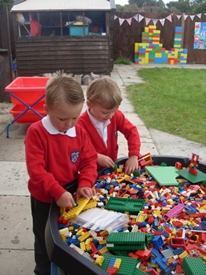 The Early Years Foundation Stage
We work closely with the local pre-schools to assist our teachers in identifying an accurate baseline and ensuring a smooth transition for all pupils starting school in Reception.
Based on the Development Matters framework, pupils are assessed as 'developing', 'emerging' or 'secure' in the 30-50 month; 40-60 month and Early Learning Goals as they progress through the year. From September 2015, a baseline assessment has been introduced for all Reception pupils. The Early Years curriculum is broken down into seven distinct areas.
Personal Social and Emotional Development
Making relationships
Self-confidence and self-awareness
Managing feelings and behaviours
Physical development
Moving and handling
Health and safety and care
Communication and Language
Listening and attention
Understanding
Speaking
Literacy
Maths
Numbers
Shape, space and measure
Understanding the World
People and communities
The world
Technology
Expressive Arts and Design
Exploring media and materials
Being imaginative
Pupils are also assessed against the Characteristics of Effective Learning:
Playing and Exploring - Finding out and exploring, Playing with what they know, Being willing to have a go.
Active Learning - Being involved and concentrating, Keeping trying, Enjoying achieving what they set out to do.
Creating and Thinking Critically - Having their own ideas, Making links, Choosing ways to do things.
At the end of the year, progress and attainment will be reported to parents in an Early Years Foundation Stage report.

EYFS Policy
Latest News
20th June - We are looking forward to the next phase of transition as BVC visit our year 6s tonight.
20th June - Today, we were delighted to welcome Mother Goose's rising fives into school as part of their transition to school.
19th June - After an informative day of staff training on Monday, school is open to pupils, parents and visitors on Tuesday 19th June.
18th June - Monday: school is closed to pupils and parents as all staff will be attending training. We look forward to Tuesday 19th when pupils will resume learning in school.
15th June - We enjoyed a very productive afternoon with dads, granddads and male carers participating in artwork with the children. Before this in an assembly, the children were given the opportunity to these special people for all they do for them.
11th June - Today, our pupils were inspired by the Young'Uns: an English folk group who previously won the BBC Radio 2 Folk Awards 'Best Group' award. Specialising in singing unaccompanied, they worked with all of KS2 to bring history to life, sing, move and perform. Wow!
11th June - the Bikeability instructors started this week's sessions with a bike check and skills session. Thank you to parents for getting the bikes to school so pupils can learn these vital life skills.
8th June - Norwich FC came in for the first of a series of sessions. The pupil's summarised these enjoyable and educational sessions by saying: 'They come in to improve our PE skills; strength, ability and speed'.
8th June - Elm class began the whole school summer program of tennis coaching. Pupils reported: 'I enjoyed doing the catching and throwing' and 'I really enjoyed passing to my partner even though it was tricky. I want to do it again.' The coach complemented our pupils on their listening skills.
Latest Publications
Notices