EYFS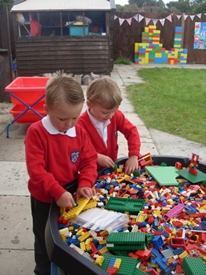 The Early Years Foundation Stage
We work closely with the local pre-schools to assist our teachers in identifying an accurate baseline and ensuring a smooth transition for all pupils starting school in Reception.
Based on the Development Matters framework, pupils are assessed as 'developing', 'emerging' or 'secure' in the 30-50 month; 40-60 month and Early Learning Goals as they progress through the year. From September 2015, a baseline assessment has been introduced for all Reception pupils. The Early Years curriculum is broken down into seven distinct areas.
Personal Social and Emotional Development
Making relationships
Self-confidence and self-awareness
Managing feelings and behaviours
Physical development
Moving and handling
Health and safety and care
Communication and Language
Listening and attention
Understanding
Speaking
Literacy
Maths
Numbers
Shape, space and measure
Understanding the World
People and communities
The world
Technology
Expressive Arts and Design
Exploring media and materials
Being imaginative
Pupils are also assessed against the Characteristics of Effective Learning:
Playing and Exploring - Finding out and exploring, Playing with what they know, Being willing to have a go.
Active Learning - Being involved and concentrating, Keeping trying, Enjoying achieving what they set out to do.
Creating and Thinking Critically - Having their own ideas, Making links, Choosing ways to do things.
At the end of the year, progress and attainment will be reported to parents in an Early Years Foundation Stage report.

EYFS Policy
Latest News
20th Apr - Mrs Gwynn met with the Peer Mediation councillors today and was delighted with their attitude. Why do they want to be a peer mediator? Replies included 'Because I want to make people happy','I want to make our school a happier place' and 'I want to make a difference'.
20th Apr - Excellent, over a third of pupils walked to school today during 'Walk to School' week. With 3 days to go, more pupils can now join us for the morning exercise as part of our travel plan.
19th Apr - Well done to all those who joined us for the start of Walk to School Week. Please do join us at each morning until Wednesday 25th to 'Walk to School'.
18th April - Following the exciting Archeological Dig on our school site two years ago, the team returned today to geophys the area in an attempt to explain the stone found in the test pits. We eagerly await the results!
16th Mar - Today is 'Offer day' for pupils due to start at Petersfield in September 2018. Please do contact school to accept your place. We very much look forward to welcoming our new pupils and parents to our school family.
16th Mar - Excitingly, our sensory garden is taking shape thanks to FOPs, Tesco tokens, the Community Chest grant and the work so far by Meadow Nursery. We look forward to seeing this garden evolve and grow over the coming weeks.
16th Apr - Welcome back to pupils, parents and visitors as school opens today for the start of the exciting and busy summer term.
29th Mar - School is now closed for the Easter holiday. We look forward to welcoming pupils, parents and visitors back to school on Monday 16th April. Happy Easter!
29th Mar - Today we welcomed our Diocese Advisor into school. She spoke to pupils about the Collective Worship which they are increasingly leading. They explained about our 'school family' the benefit of 'time for reflection' and how 'it is fun now, we get involved'.
Latest Publications
Notices